More information about the 2023 Lunenburg Heritage House Tour
Ironworks Distillery - 2 Kemp Street - Heritage...
Ironworks Distillery   (1893) 2 Kempt Street ironworksdistillery.com  Thomas Walters built this industrial structure for his Marine and General Blacksmiths Business, operating for 112 years until 2005. Large 8 over 8 windows faced south to illuminate the workshop area and a louvered cupola provided an escape route for the heat from the coal fired forge. Specializing in "shipsmithing", Walters crafted anchors,...
MacKay-Lyons Sweetapple Architects & B2 Lofts -...
MacKay-Lyons Sweetapple Architects & B2 Lofts  (circa 1873 and 2019) 160 Montague Street mlsarchitects.ca, b2lofts.ca  B2 Lofts is an urban infill consisting of the renovation of an existing historic building and an adjacent new building. It includes six loft style apartments and two street-level commercial spaces, one of which houses the Lunenburg office of the acclaimed firm of MacKay-Lyons Sweetapple Architects...
The Big Boat Shed and the Boat Shop - 12-14 Bur...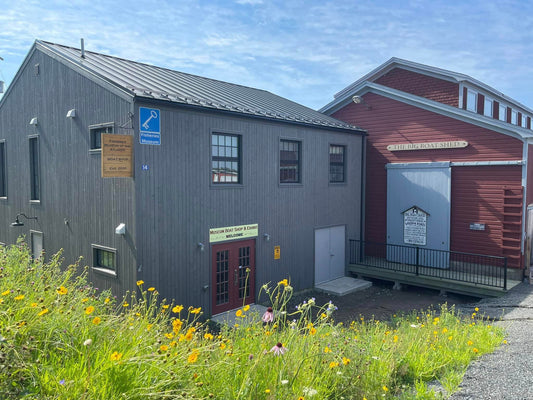 The Big Boat Shed and the Boat Shop (circa 1947 and 2021) 12-14 Burma Road bigboatshedns.com, fisheriesmuseum.novascotia.ca  This area of the Lunenburg waterfront is known as the Shipyards. Shipbuilding began here in 1900 when Richard W. Smith and George A. Rhuland formed their partnership. The ships built by Smith and Rhuland tell the history of shipbuilding in Lunenburg. Bluenose, Queen...
The Dory Shop - 175 Bluenose Drive - Heritage H...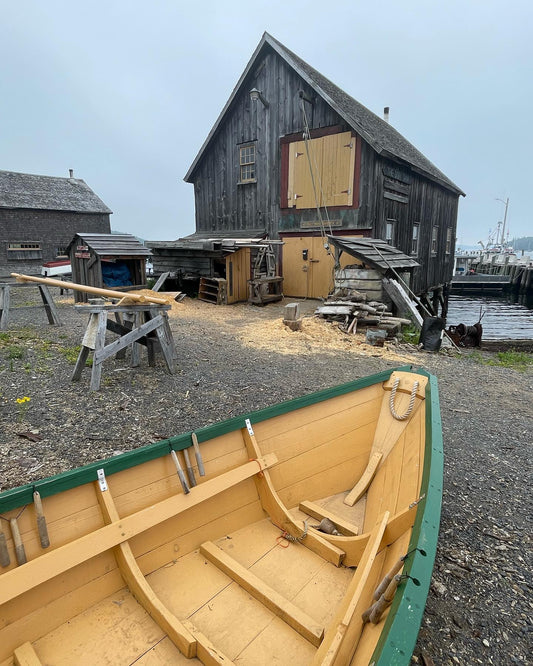 The Dory Shop  (Circa 1893) 175 Bluenose Drive doryshop.com Building dories has long been a part of Lunenburg's working waterfront. While the exact age of the current building housing the Dory Shop is not known, there is evidence of a structure on this site in the 1893 bird's eye map of Lunenburg. The two-storey building is clad with vertical boards...
Lunenburg Opera House - 290 Lincoln Street - H...
Lunenburg Opera House  (1908) 290 Lincoln Street folkharbour.com  The Lunenburg Opera House was built in 1908 by the Independent Order of Odd Fellows. Architect Leslie Fairn introduced a sloped floor system with curved laminated beams and innovative ceiling trusses to create the large open theatre. The building's facade, with Edwardian neoclassical styling, has a large bracketed pediment, wide corner pilasters...
Knaut-Rhuland House - 125 Pelham Street - Herit...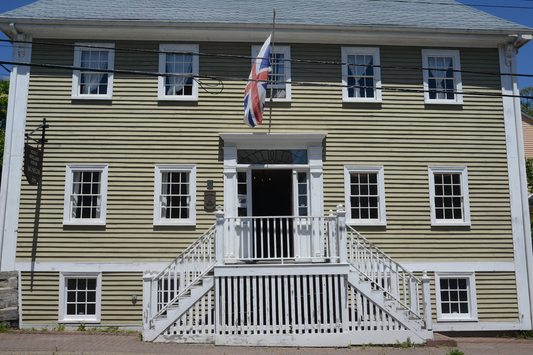 Knaut-Rhuland House Museum (Circa 1793)  125 Pelham Street National Historic Site of Canada lunenburgheritagesociety.ca One of the best-preserved 18th century houses in Canada, this house was built c.1793 for Benjamin Knaut, a wealthy merchant, ship owner and one of Lunenburg's first sheriffs. With its impressive dimensions, it was an outward and visible symbol of the owner's influence. Its second owner was...